Press Releases
Voice for Change MUT-23 Announce 20 Silver Finalists
August 15, 2023

Image: Voice for Change Top 20 Silver Finalists - MUT 2023 | CI Talks
PRESS RELEASE
For Immediate Release:
Bangkok, Thailand – August 15, 2023 – The "Voice for Change" Miss Universe Thailand 2023 video contest, proudly sponsored by Mouawad and CI Talks, has unveiled its 20 Silver finalists. This contest, which invited aspiring beauty queens to champion social issues close to their hearts, marks a remarkable initiative in fostering positive transformation within Thailand.
As part of the Mouawad and CI Talks "Voice for Change" Miss Universe Thailand 2023 contest, each contestant was tasked with crafting a compelling 3-minute video highlighting a social cause or issue of significance within Thailand. The aim is to spark change and inspire action for a more sustainable and impactful future. The submission period concluded on July 26, 2023.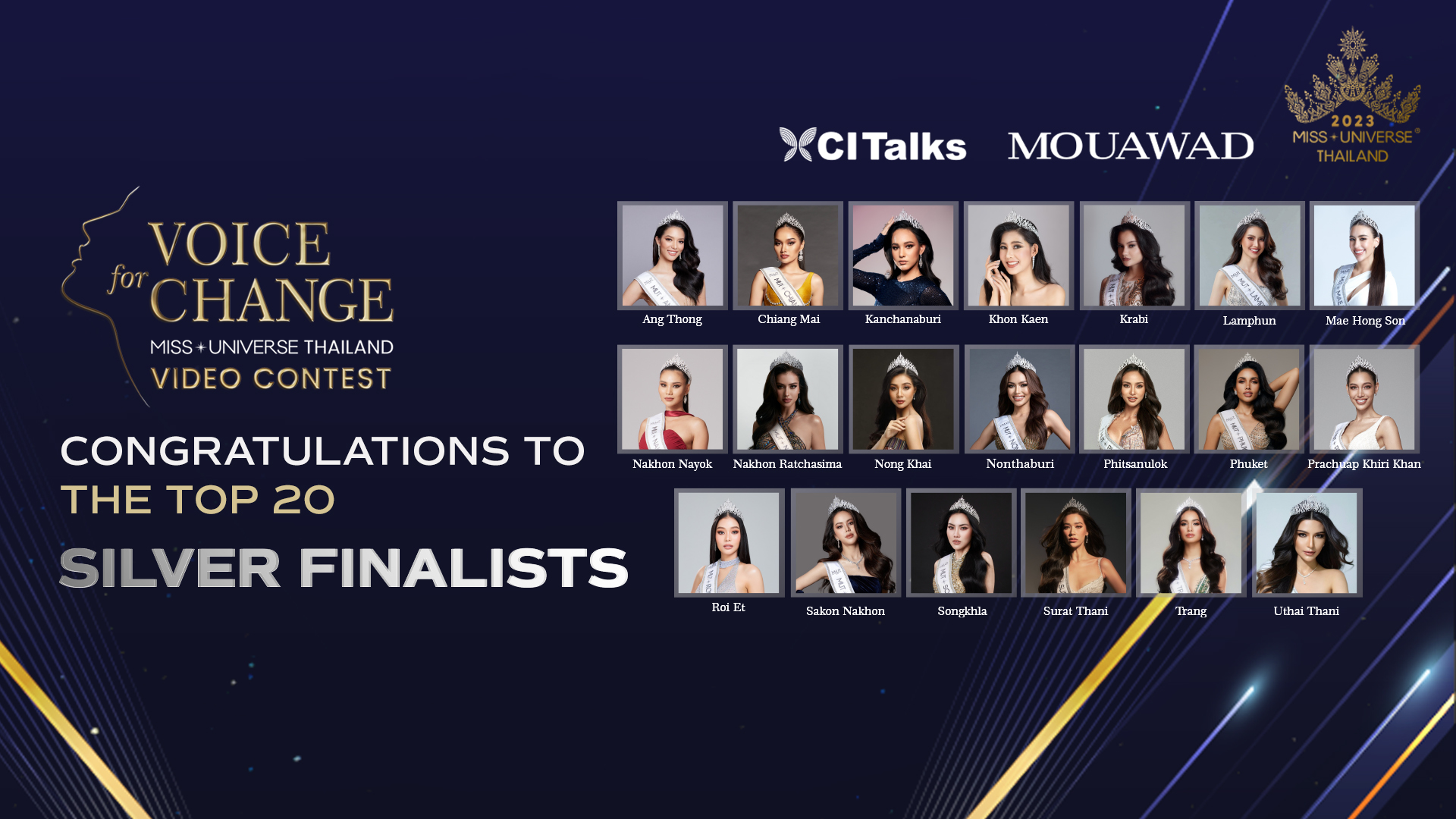 Watch the
Contestant Video Entries
▶ HERE
"I am personally thrilled to announce the launch of our 'Voice for Change' campaign sponsored by CI Talks and Mouawad," stated Fred Mouawad, Founder of CI Talks and Co-guardian of Mouawad.
Meet the Distinguished Panel of Judges:
A distinguished panel of judges, including Fred Mouawad (Founder of CI Talks, Co-guardian of Mouawad), Dr. Pongrapee Buranasompob (Potentialities Expert / Psychologist, Fulbright Research Fellow), Thitipong Duangkong (Lecturer, Pridi Bhanomyong International College, Thammasat University), Sunanta Chuaychoo (General Manager, Mouawad Bangkok Rare Jewels Manufacturers), and Adrian Gwyn-Evans (COO, CI Talks), meticulously evaluated each contestant's video submission based on five key criteria:
Compelling Case for the Cause: Is the cause effectively conveyed and supported by evidence?
Solution Quality: How viable are the proposed solutions to the problem?
Message Delivery: To what extent does the presenter's voice engage and resonate?
Message Memorability and Credibility: Does the video leave a lasting and impactful message?
Creativity and Innovation: How inventive is the message's presentation?
Key Dates and the Path Forward:
The announcement of the 20 Silver finalists took place during the "Mouawad Miss Universe Thailand 2023 Crown Extravaganza" (the unveiling of the Mouawad "Light of Glory" crown) at the Royal Orchid Sheraton Hotel & Towers, Bangkok, on August 9, 2023.
The culmination of the contest will be the revelation of the 3 Gold Winners during the final of Miss Universe Thailand 2023 on August 20, 2023. These exceptional individuals will each receive a cash prize of 100,000 Thai Baht and collaborate with CI Talks to produce a professional social impact video campaign dedicated to raising awareness for their chosen cause within Thailand.
"The Voice for Change Miss Universe 2023 video contest, sponsored by Mouawad and CI Talks, is a means to amplify the voice of all contestants so they can spark change about causes they believe in," affirmed Fred Mouawad.
Introducing the 20 Silver Finalists:
These exceptional individuals have emerged as the 20 Silver finalists of the "Voice for Change" Miss Universe Thailand 2023 social impact and sustainable development video contest.
Through their compelling and heartfelt video submissions, each finalist has demonstrated a deep commitment to driving positive change within Thailand. Their passion, dedication, and innovative approaches stand as a testament to the power of individuals working collectively for a better future.
Meet the 20 Silver Finalists:
These Silver finalists each submitted videos that were highly rated by each of the judges. Their videos demonstrated the immense potential of these young leaders to drive meaningful change in their communities, in Thailand and beyond.
About The House of Mouawad:
With over a Century of Excellence, The House of Mouawad is dedicated to the pursuit of artistic brilliance and technical perfection, crafting jewelry of unparalleled beauty. As a brand synonymous with luxury and refinement, Mouawad collections adorn royalty, celebrities, and jewelry connoisseurs worldwide. Founded in 1890, The House of Mouawad is a family business with Fred Mouawad as the fourth-generation co-guardian, alongside his brothers Alain and Pascal.
About CI Talks:
CI Talks (Citalks.com) is a social impact and sustainable development video-on-demand platform. Founded by Fred Mouawad in 2021 and headquartered in Bangkok, Thailand. The company produces high quality impact videos for organizations interested in communicating to the public the social causes they support and care about. The company offers different packages and a full video production solution to support internal corporate social responsibility initiatives.
#CITalks #Mouawad #VoiceForChange2023 #MissUniverseThailand2023 #SparkChange
For more information and to view the "Voice for Change" Miss Universe Thailand 2023 contestant video entries, please visit CI Talks at www.citalks.com.
Contact CI Talks:
Adrian Gwyn-Evans
[email protected]
Resources:
miss-universe-thailand-2023
Latest posts
If you liked this post,
Share it on: